*** HOT SUMMER Night 2014 ***
HOT SUMMER NIGHT `14 – 05/07/2014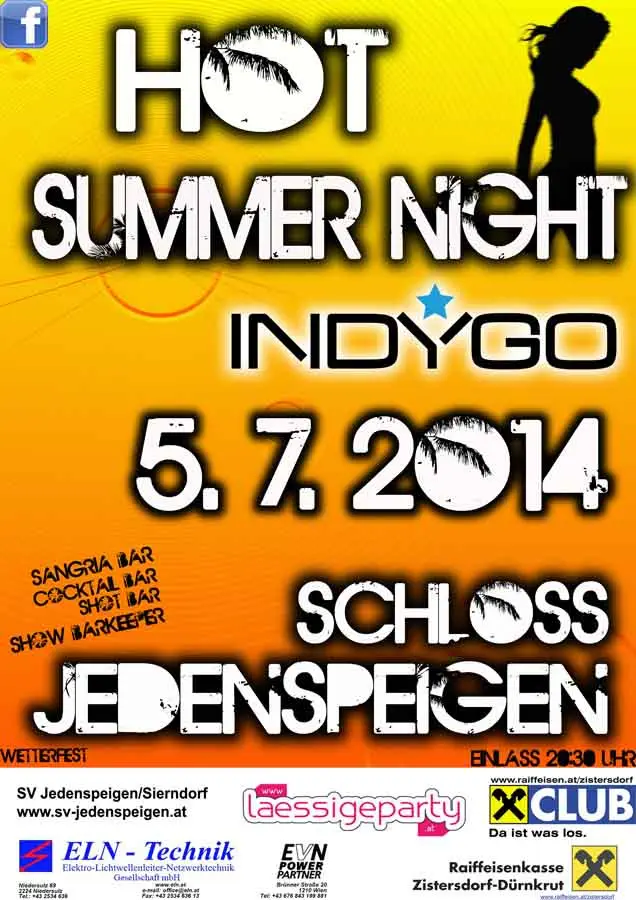 … auf Schloss Jedenspeigen, die heißeste Nacht des Sommers und Ihr dürft natürlich nicht fehlen. Es warten verschiedene Themenbars wie:
– Cocktailbar
– Shot Bar
– Sangria Bar
– Longdrinkbar


An der Cocktailbar gibt es wieder köstliche Cocktails, an der Sangria Bar hausgemachten Sangria. Für alle, die lieber aus kleinen Gläsern trinken haben wir an der Shot Bar angefangen von Klopfern über Jägermeister auch leckere Shots vorbereitet.
Wer sich nicht an der Cocktail-, Sangria- oder Shot Bar findet, den trifft man an der 40 Meter langen Longdrinkbar wo Warten ein Fremdwort ist.
Gegen den kleinen Hunger zwischendurch haben wir auch heuer wieder etwas Köstliches zum Snacken für Euch.
Für eine heiße Stimmung sorgt heuer wieder DJ Indygo. Er ist Resident im Fullhouse sowie Fix Italia. Außerdem ist er Member of XDT und hat Singles wie
DJ Indygo & Chris Antonio – F..K The Early Morning
Gugbriel – Salvation (DJ Indygo & The One Remix)
Veröffentlicht.
All das und ein paar weitere kleine Überraschungen wie Hawaiiketten für unsere Gäste, eine Chill out Area und und und erwarten Euch am 05. Juli 2014.
Einlass laut Jugendschutzgesetz
Hard Facts:
Eintritt: € 8,- (€ 6,- ermäßigt mit Raika-Club)
Happy Hour von 21:00 bis 22:00
Cocktailbar
Shot Bar
Sangria Bar
Longdrinkbar
Foodcorner
Hawaiketten
Chill out Area
DJ Indygo
Machen wir die heißeste Nacht des Jahres zum Tag!!!